by Debbie Vance
I am currently in love with the poetry of Mary Szybist (as are many readers these days, apparently). Her collection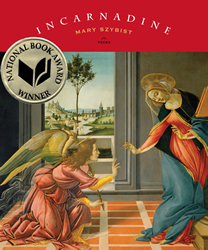 Incarnadine wrestles with the tension between the numinous and the physical, exploring the intimacies of our humanity-our small details, tastes, wishes, preoccupations-while navigating the mystery that is the Annunciation-the Virigin Mary is greeted by the angel Gabriel and told she will bear the Incarnate Son of God-where flesh meets abstract.
Here, I include her poem, "On Wanting to Tell [   ] about a Girl Eating Fish Eyes," which is not so much about the Annunciation, per se, as about the basic human desire to encounter a flesh that no longer lingers here, a wish to meet our beloved dead and share some small moment in corporeal time. It explores the boundary between body and soul, tangible and intangible, leaving the words to linger on your tongue like bitter coins, like fish eyes. And in this symbolic Charon's obol, a soft attempt to touch the departed.
"On Wanting to Tell [    ] about a Girl Eating Fish Eyes"
by Mary Szybist, from Incarnadine

-how her loose curls float
above the silver fish as she leans in
to pluck its eyes.

You died just hours ago.
Not suddenly, no. You'd been dying so long
nothing looked like itself: from your window,
fishermen swirled sequins;
fishnets entangled the moon.

Now the dark rain
looks like dark rain. Only the wine
shimmers with candlelight. I refill the glasses
as we raise a toast to you
as so-and-so's daughter-elfin, jittery as a sparrow-
slides into another lap
to eat another pair of slipper eyes
with her soft fingers, fingers rosier each time,
for being chewed a little.

If only I could go to you, revive you.
You must be a little alive still.
I'd like to put the girl in your lap.
She's almost feverishly warm, and she weighs
hardly anything. I want to show you how
she relishes each eye, to show you
her greed for them.

She is placing one on her tongue,
bright as a polished coin-

What do they taste like? I ask.
Twisting in my lap, she leans back sleepily.
They taste like eyes, she says.

Tags:
Mary Szybist
,
poetry