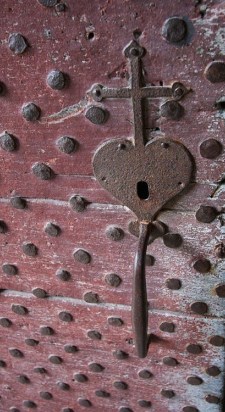 by Zsolt
When he wrote the essays in Living, Loving, and Other Heresies, Zsolt was suffering from a progressive, debilitating neuropathy that eventually killed him. The essays began as letters to loved ones, but slowly evolved into group emails not only about his disease, but also about life in general. They functioned as a kind of blog–with the exception that as Zsolt was writing the entries, he was simultaneously losing the ability to play music, ride a bike, walk, speak, and even take care of himself in the most basic ways. Indeed many of the essays were written using word-recognition technology on a keyboard, one very slow letter and return keystroke at a time. Living, Loving, and Other Heresies is a testament to a carefully examined and purposeful life. It is a book of witnessing and testifying, intensely personal and yet expansive, characterized by careful art throughout.
In the essay this excerpt is pulled from, Zsolt has just described losing or accidentally breaking all but one of his treasured pearl necklaces.
Learning to get about with walkers and wheelchairs is one thing. Having to give up one's pearls is quite another, though I suppose it must be done at some point and better strand by strand than all in a lump. THAT would devastate. I am afraid it will not help for you to say, "But Zsolt, my dear, they were mere costume jewelry." This is rather like the Prince saying of a woman who has just died, "Oh, she was just the milliner." Milliner or not, she had her stories.
Regardless, all of these pearly tragedies point up the fact that it is always easier to dispose of things oneself than to have them wrenched away by the hand of Destiny. Somehow, at times like this, when you thought you knew Destiny well, the feel of his hand is not quite what you remember.
With this in mind it is a queer thing that we continue obsessively living an illusion of Life as Accretion and Ownership: how we painstakingly accrue degrees, years, objects, wrinkles, honors; we have children, grandchildren, defenses, spouses, houses, sex. In fact we are so damn confident of the ownership of our accretion, rather like plaque on the teeth, that it is quite a joke when, somewhere in all the fuss of Having, we begin to find that the dominant feature of life is not Accumulation, but Loss. Quite likely in our earlier years we lost a kitten, or a toy, or a friend, or a grandparent, even a parent. As we age, however, and even with the persistent amassing of birthdays, we find ourselves losing everything from muscle tone to memory, pearls to hair. As the dust piles up and inflation grows, as undone chores multiply and wrinkles are added daily, many of us begin questioning whether our glittering personal empires are stable enough to maintain themselves to the end.
***
Yes, I am growing accustomed to living life without the exuberance of dancing, without the thrill of bicycling, without dimly-imagined futures that never came to pass, and as I contemplate my own future I am gradually coming to peace with the thought of living without this object or that, without the full use of my legs, without the playing of music, without much of what has previously defined me, both in my eyes and in the eyes of others. Oddly enough, though, this persistent dissolution of things, whether real or conceptual, is leaving me feeling ever more alive, not less. What remains, however vulnerable, is yet tough and brilliant as a diamond. And on each facet of that diamond is reflected the face of someone I love.
It is here where I most resist having to dismantle my life: those I love. Thankfully there is no need to dismantle them at this point. And perhaps there never will be. While we are often told that we will have to take that last step alone, I wonder if this is true, for in some queer way the love we have been given, part of a magnificent universe, as well as the love we have lived and shared is not only who we are but also that into which we will step at the threshold of death. Even if it be dust to dust, some kind friend is bound to plant a seed in it and watch with awe as it sprouts into luxuriant growth whose berries vaguely resemble pearls.
So toss out the old toaster ovens, throw away the clothing that no longer fits, burn the moth-eaten years of your youth, your life, but the people you love, take them with you, for it is into their love that you will dissolve at the threshold.
Oh hell, take along a string of pearls, too.
Tags:
destiny
,
purposeful life
,
small press
,
Valentine's Day