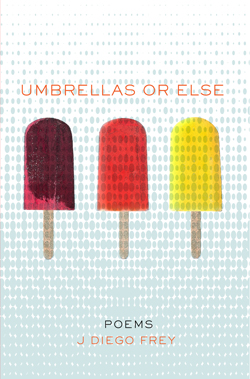 Praise for Umbrellas or Else, now available:
"J Diego Frey's poems are written with a love for language and a freshness of voice that's tough to beat."
-Michael J. Henry's latest poetry collection is Active Gods, forthcoming spring 2014
"…when I pick up J Diego Frey's work, laughter and tears come in waves and I recognize appreciation comes in a purer form-the immediacy of emotion that fresh and original poems stir in the reader."
-Chris Ransick's latest poetry collection is Language for the Living and the Dead
J Diego Frey is a product of suburban Colorado in the 1970s and an admirer of cheeseburgers. His poetry follows naturally from this. Umbrellas or Else is JD's first collection of poems. The title of the book was suggested to the poet by his father long before any of these poems were written, but somehow, it fits.