For your weekend reading pleasure, here's an essay from Dave Rothman on ski legend Doug Coombs. To read more of his writing, check out Living the Life: Tales From America's Mountains & Ski Towns. "No other book has ever explained or explored the skiing life so well." -Winter Park Telemark Lessons Review
Enjoy.
A Memory of Doug Coombs at Jackson Hole
David J. Rothman
This essay about extreme skiing pioneer Doug Coombs' firing from Jackson Hole first appeared in Couloir in October 1997 (issue 10.1), and was one of the few pieces to treat the incident in detail. I was fortunate in that I had been in Jackson the week the firing happened the previous February. I had the opportunity to ski in the backcountry with Coombs, on Teton Pass, and talk with him and others in town about what had happened while the memories were raw.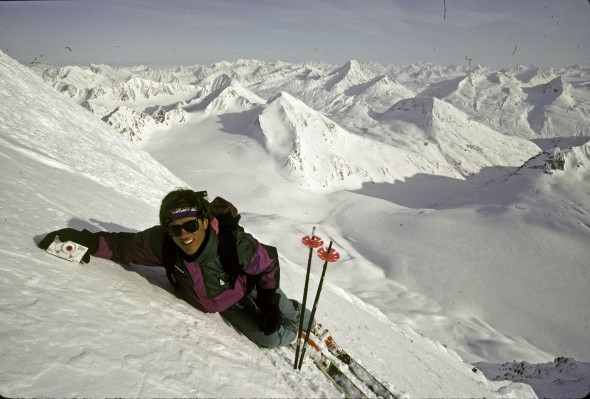 Looking back, Coombs' departure from Jackson was a turning point in American skiing, and Coombs' approach has now long been vindicated. While Coombs did leave town and set up shop guiding in La Grave, France and elsewhere, the Jackson management and those at many other major resorts soon changed their approach and began supporting an open boundary policy, in recognition of how the sport was changing. In just two short years, Jackson opened its boundaries and they have remained open ever since. Today, part of Coombs' great legacy is not only Jackson's approach to backcountry access but the growth of extreme terrain access and ski mountaineering generally. He had a direct and lasting impact on the sport.
My February 2007 day on Teton Pass with Doug and several other friends (Steve Miller and Bruce Plotkin) was memorable. Despite some lingering bad-boy image at the time, Doug was tremendously charming, responsible and knowledgeable about all aspects of the sport, from turns to avalanche science. Although he was a few years older than me, we'd raced against each other in college, though we hadn't known each other then (he kicked my butt). It was exciting to see what a spectacular career he then made for himself in skiing. When he died, in La Grave in 2006, I mourned with many. It's important to remember that his death was not the result of a fall in the pursuit of his own turns, but of a rescue effort that went awry.
I reprint this piece here as a tribute to a great athlete, an innovator, a passionate man, and a friendly guy who loved life. Thanks, Doug, for who you were and for all you accomplished.
***
Elite free skier, alpine guide, and former Jackson Hole Ski Ambassador Doug Coombs will not be working with Jackson this year. Despite his many achievements, Coombs' relationship with the area came to a rocky close last season, when he was fired and temporarily banned from the premises for skiing out of bounds. As a result, Coombs and his wife Emily Gladstone are leaving the country, and will be working this season in La Grave, France. Jim Gill, Jackson's General Manager, has indicated that Jackson would be glad to talk to Coombs about returning the following year, but at this point it's impossible to know if Coombs and Gladstone will come back.
This is considered by many to be a serious loss for Jackson and for American skiing. Coombs has built a remarkable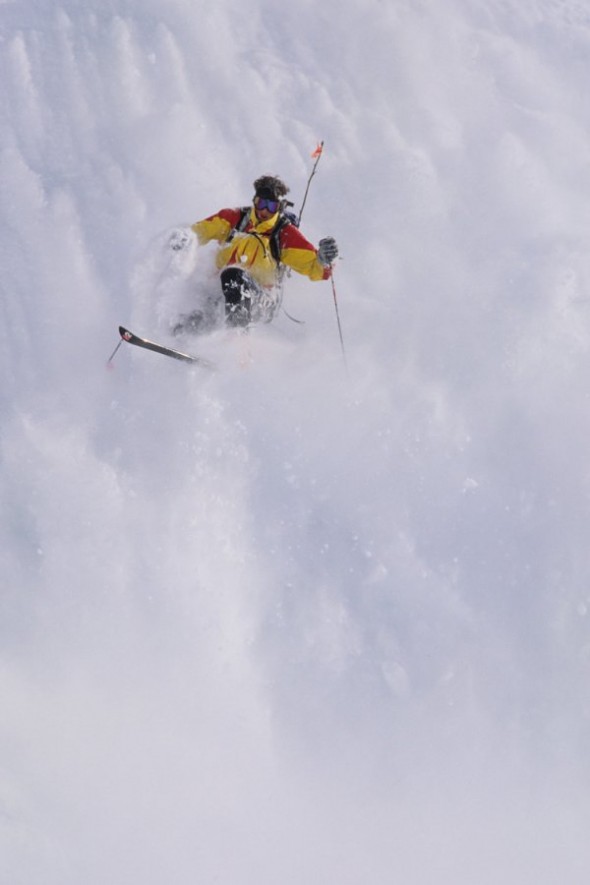 career since winning the World Extreme Skiing title twice in the early 90s. He owns and operates a heliski operation in Valdez that earns high marks for adventure and safety. He has become an elite ski mountaineer, scoring first descents on radical routes like the Grand Teton's Otter Body Couloir. Up until the middle of the last ski season, he served as one of Jackson Hole's two Ski Ambassadors (the other is Tommy Moe), making him one of the best known ski mountaineers in America. At Jackson, Coombs established his Steep Camps when Pepi Stiegler was Director of the Ski School, and under current Director Jim Kercher they grew into one of the most innovative programs for advanced skiers at any American resort. Coombs' program has played a substantial role in educating and training the larger skiing public about big mountain skiing, both at resorts and in the backcountry. It's also been good to Jackson Hole, placing the resort in the public eye and attracting quite a bit of new business.
The event that led to Coombs' firing was not his first brush with the authorities at Jackson. His liberal attitude towards skiing outofbounds terrain had created friction with the Jackson Hole Ski Patrol and management for years. That conflict came to a head near the end of January, when a patroller caught Coombs on what the patroller claims was the far side of a rope that closes a wellknown avalanche path within the ski area boundary. Coombs says the boundary was unclear, and Jackson's ski patrol admits that in typical years skiers cannot go where Coombs did because a cliffband blocks the traverse. This past season, however, the cliffs were covered by a record snow pack. Coombs claims that he went beneath the last "closed" sign, as opposed to the clearly illegal move of climbing above and across the sign line, adding that he honestly thought he was playing by the rules. The patrol counters that Coombs should have known better.
Shortly after the incident, Coombs seemed truly contrite about what he had done. "I have a lot of respect for the patrol," he said. "Those guys have a hard job to do, and they do it well. I honestly thought I was in a gray area, but I realize I made a serious mistake, and I'm sorry about all the problems it's caused for Jim Gill [General Manager] and the guys on the patrol who were just trying to do their jobs. I really had no desire to make things hard for them, and you can bet I won't make that mistake again if they let me come back." Coombs repeatedly apologized, promised to give free educational clinics about patrol policy, and even offered to pay a hefty fine in return for another chance to work at the resort.
While some members of the Jackson staff supported Coombs, others argued that letting him off the hook would be unfair, and insisted that he not receive special treatment. In the end, even though Coombs had been good for business, and despite his apologies and promises, the voices advocating punishment prevailed.
News of Coombs' departure from the US traveled quickly through the ski world, because it highlights the issue of backcountry access from resorts throughout the country. As most serious skiers and snowboarders know, tough outofbounds policies such as Jackson's evolved in America for two interrelated reasons: to protect the public from unsafe conditions beyond the ropes, and to protect the resort from damaging lawsuits in which injured skiers and snowboarders allege negligence. In many such cases, juries have awarded enormous sums to injured skiers who brought suits. In Canada, European countries, and other alpine nations, liability law has evolved in different ways, large cash settlements are virtually unheard of, and in the case of resort skiing, management would not have had to face the choices which Jackson did. But the legal climate in America, which now has some of the most restrictive boundary laws of any alpine nation, ensured that Coombs' actions at Jackson would become an issue.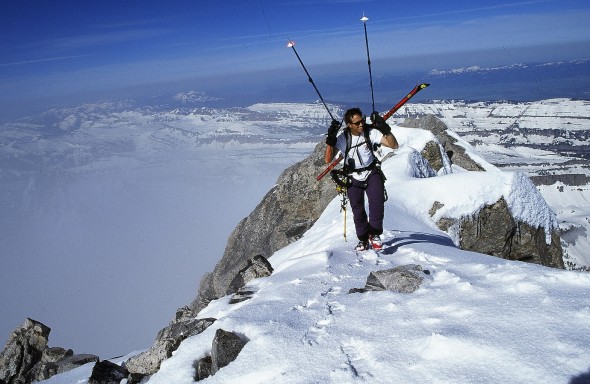 The irony is that all the parties to the outofbounds debate, at Jackson as well as at other big liftserved mountains, are serious, passionate skiers and snowboarders. As one Jackson employee put it shortly after Coombs was caught, "Coombs has been great for the sport and for this area, and everyone realizes that the trick is going to be to figure how to get beyond the political stuff so that the patrol recognizes they're being respected, management is satisfied Coombs won't bend the rules, Doug stays on, and we can all continue to turn people on to big mountain skiing."
In the end, that didn't happen, at least not this year, though the door may be open for Coombs to return. What does seem clear is that the issues raised by Coombs' departure from Jackson are not going to go away. In fact, many major American ski resorts are responding to an increased public appetite for extreme terrain and backcountry access. In the last several years Big Sky, Copper Mountain, Breckenridge, Winter Park, Aspen Highlands, and many others have opened new, more dangerous terrain, or liberalized their backcountry access policies. Other resorts have plans to do the same. As the popularity of ski and snowboard mountaineering continues to grow, the ski industry will undoubtedly face more cases like that of Coombs, who was hired to teach and promote adventure skiing. As Coombs has pointed out, "One solution is to close everything; but my solution is to educate everyone." How resorts respond to this challenge will have a good deal to do with how the sport develops. In the end, that is likely to mean addressing the legal questions head on, so that resorts can meet an increasing public demand for backcountry adventure without fearing punitive retribution from the courts.
Tags:
David Rothman
,
Weekend Reads