Author David J. Rothman's top book picks from 2013:
"I read a lot of old books, and as a result many of the most interesting words I encountered in 2013 were not published this year. In fact, quite a few were not published in this century, or even in the last one. For example, I just finished teaching a course at Lighthouse Writers Workshop of Denver on John Milton's Paradise Lost, and, you know, that's a pretty good book. Sex and violence, virtue and depravity, the fate of the universe hanging in the balance-what's not to like? I feel justified in admiring it. I taught another Lighthouse course this fall in which we read all of Shakespeare's 154 Sonnets aloud, in order, over the course of eight weeks, and chatted about them. That guy is a good writer too. But in terms of what I read this year that was published this year, a few stand out. In particular three of my friends brought out collections of new poetry this year, and all are worth a long look."
***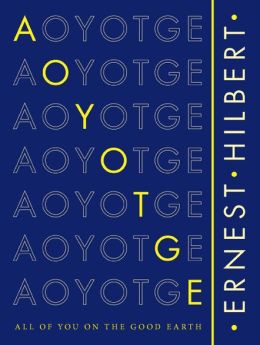 All of You on the Good Earth (Red Hen Press) is Ernest Hilbert's second volume of poems, drawing its title from the way John Boorman addressed the denizens of the planet from Apollo 8 on Christmas Day, 1968. Like Hilbert's first volume, Sixty Sonnets, this book is filled with gritty, vibrant, technically innovative and masterful poems that speak directly to how we live now. They're dark, they're funny, they can be quite tender, and they always observe the world closely. Here's "Drop Out":
By the time you learned it was Lyme disease
It was "advanced." The sports clinic sent you
Home with aspirin for an entire year.
With tuition due and an expired lease,
You sell your books. You've got debt, and flu,
So you make fewer classes, drink less beer,
Wait more tables, then, finally, sell your blood.
You skip morning classes but still can't sleep.
Your so-called boyfriend won't call back. What's next?
If you can just finish the year … but the flood
Of failures continues, and you feel cheap.
You're a week late. And then the dreaded text …
Your life piles up like wet laundry. It seems
Senseless, and what is that? Are those screams? Screams?
Note the cunning grace of the meter combined with utterly colloquial and deceptively smooth syntax. But note especially the clarity, the clear gaze, and the humanity. The poem is painful but it is also generous. Hilbert sends these poems out to real people-or imagined people who are so thoughtfully drawn they feel real-here on the good earth. Hilbert is one of the best of his generation.
***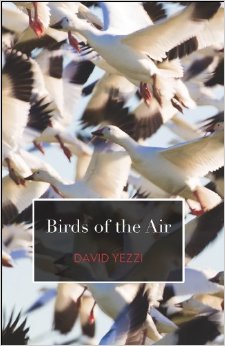 Birds of the Air (Carnegie Mellon Poetry Series) is David Yezzi's third volume of poetry. Yezzi is a writer with tremendous range. Former Executive Editor (and now Poetry Editor) of The New Criterion, he is not only a poet, but also an increasingly powerful critic and now also scholar, working on the official biography of the great American poet Anthony Hecht. In an earlier life, Yezzi was an Equity actor and his dramatic skill is more and more evident in his recent poems. His latest book is his most powerful yet. What consistently strikes me about the poems is the way they sketch convincing dramatic situations with economy and depth, all in extraordinarily graceful lines. One of Yezzi's gifts is his ability to use all the poetic devices in the quiver to create a tone, a voice, a setting that seems to suggest an entire world in just a few sentences. Let's stay with sonnets and read his poem "Orts":
Tough to say from this tableful of scraps
what couples feasted here—gnawed olive stones
among the burnt ends of cold meat, the laps
of cantaloupes splayed open, spindly bones
of game birds, unloaved crusts, a waxy rind.
Did late-harvest wine unloose their wild talk?
Whose restless eyes, at once far-off and kind,
looked skyward on an after-dinner walk?
The clues are hard to tease out: were they fair
or compromised, temperate or gluttonous;
did some not give a fig and others care?
Both, perhaps, and in both just like us,
who, swept up in the whirl of tonight's laughter,
pay no special mind to what comes after.
The poem is so clear it hardly seems to need explanation, but that is an illusion, because such clarity is hard won. Yezzi can take a moment's reflection and fix it so precisely it conveys a shock of recognition. He does this by gracefully capturing the full flux of ordinary life. In this poem, many of the observations either contradict each other, or admit alternatives-"restless eyes, at once far off and kind," "were they fair / or compromised, temperate or gluttonous"-giving the sense of moments as we live them, restlessly trying to make sense of the clues, which are the real "orts," or leftover scraps, in this case. Yezzi's ability to articulate such clear emotion in a muddled world is a rare gift, in evidence on every page of this book.
***
A trifecta of poetry. One of the books for which I wrote a blurb this year is Chris Ranskick's new book from Conundrum Press, Language for the Living and the Dead. When I read it in manuscript, it struck me as his best work to date. Here's what I wrote: 
One poem in Chris Ransick's new book is "Eternity, Colorado," and that title could serve as a reader's instruction for the entire work. Throughout, Ransick's internal argument between the real and the sublime forges a fierce yet graceful art. In "Paris Conundrum" he sees at once "your shimmering tower / and your dirty gutters." In "Cooking Lessons" he encourages us: "Break the egg carefully. / Not the world, though. Eat that / by the rough spoonful."  Again and again Ransick shows us what we know to be true about the world but that only a strong poet can figure forth: that we are surrounded by both the visible and the invisible, light and darkness, life in death and death in life, which is why we need language both for the living and for the dead. With this book Ransick confirms his place as one of the poets explicitly rooted in Colorado–along with Thomas Hornsby Ferril, Reg Saner, Dave Mason, and others–who also have the gift to make it an emblem of eternity. 
Six months later, I agree with what my slightly younger self wrote, and I am grateful to Conundrum for bringing this and so many other fine books to the light.
***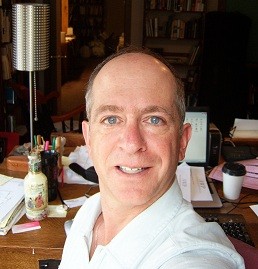 David J. Rothman has been an East Coast NCAA Division I alpine ski racer, mountain sports journalist, and ski and snowboard academy headmaster in Colorado. He co-founded the Crested Butte Music Festival and is poet-in-residence for Colorado Public Radio. He is the Director of the Poetry Concentration in MFA in Creative Writing at Western State Colorado University and teaches creative writing and composition at the University of Colorado, Boulder, and at Lighthouse Writers Workshop of Denver. He lives in Boulder and Crested Butte.
Tags:
David Rothman
,
Top Picks of 2013