The release of Cara Lopez Lee's memoir They Only Eat Their Husbands prompted us to ask Cara to reflect on the work: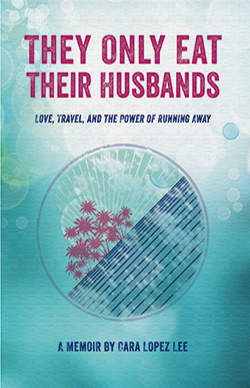 To write a memoir about a transformative experience is to discover the power of storytelling to create our sense of who we are. My memoir, They Only Eat Their Husbands: Love, Travel, and the Power of Running Away, is about a solo journey around the world that becomes a journey into self. In it, I reflect: The past is a mythology of memories, a collection of stories arranged to support my view of the world. The future is a fantasy I can forever move toward but never reach. What is the point of trying to live in those places, or anywhere but now, and now, and now? Yet, all are part of any story: what we carry from the past, what we experience in the moment, what we create for the future.
Creativity forms the core of our ability to grow. In a way, a journey requires us to create something from nothing, to imagine a path that does not yet exist, create that path, walk it, and open ourselves to unexpected results. In my teens, I yearned to travel but assumed only wealthy people did that. In my twenties, I became a TV journalist and embarked on the daily voyage of transforming nine-a.m. ideas into six-p.m. news stories. So when I was thirty and two fellow journalists went on a six-month backpacking trip on a shoestring budget, I could imagine creating my own world trek. I started saving money. It didn't matter if it took a few years. Those years would pass anyway.
I dreamed of finding a romantic partner to share my journey, but instead struggled through destructive relationships with alcoholics. Then I watched my stepmother die at forty-six. I imagined death arriving to catch me waiting for my life to turn out, and decided: I will not let my solitary state dictate the pursuit of my dreams. I needed to prove to myself I could go it alone.
I spent six weeks driving from Alaska to Los Angeles, including a ferry trip through the jewel-green fjords of the Inside Passage. In L.A. I spent three months at my father's house, helping care for my two-year-old half-sister in the wake of her mother's death while I decided where to travel next. My imagination landed on: China, Thailand, Nepal, India, Greece, Italy, Spain, France, Ireland, and England.

Until then, the most exotic place I'd traveled was Mexico. So starting my trek in China was like diving into the deep end when all I could do was dogpaddle. A well-traveled friend advised, "Culture shock is real. You will experience it." With typical stubbornness, I determined culture shock would not affect me. I envisioned my mind an expansive, malleable, evolving universe, able to take in all it encountered without erecting walls or risking damage. Then, at a Chinese temple, an old woman dragged me before authorities for taking an unauthorized photo, and I burst into tears. "Please let me go!" Proof that a solo trekker need not be fearless, only willing.
During eight months overseas, I created a confident new vision of myself. When vendors swarmed me in Nepal, I shouted, "I'd really like to be alone please!" I grew strong by doing my dharma, facing challenges one-by-one: climbing a rope up and down a cliff in Thailand, trudging through the Himalayas for three weeks and getting blessed by a lama, swimming across a bottomless lagoon in Spain. I found myself reflected in the people and places around me.
One day I almost missed my ferry from Greece to Italy, but a bartender, grocery clerk, cop, and some dock-workers, all strangers, rallied to rescue me. Here's what the bartender did:
He jumped on a motorbike parked just outside and started the engine. I unbuckled my pack and, without pausing, let it fall from my shoulders to the ground as I leapt onto the back of the scooter. I grabbed the bartender's waist and we took off, speeding down the docks, dodging passengers and vehicles from another boat.
Where did my personal evolution lead? I've discovered that in a planet of seven billion people, love is not scarce. For me, love is no longer something to search for, but a place to come from. That love is what motivates me to pass my story on, to remind us all to create our lives as journeys in which we each become the heroes of our own stories.
 ***
 Cara Lopez Lee's memoir, They Only Eat Their Husbands, is now available from Conundrum Press.