A movie, a poet's life, and a human rights activist: Black Butterflies, Ingrid Jonker, and Nelson Mandela meet in a moment of serendipity for writer Rebecca Snow. Here, she reflects on film, poetry, and the beautiful life work that echoes into today.
Rebecca's novella is forthcoming in 2014 from Conundrum Press.
"What counts in life is not the mere fact that we have lived. It is what difference we have made to the lives of others that will determine the significance of the life we lead." -Nelson Mandela, July 18, 1918-December 5, 2013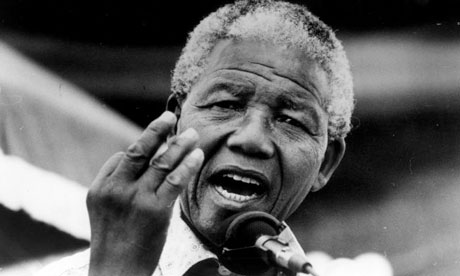 Hearing Mandela's Voice
by Rebecca Snow
While browsing Netflix on Saturday night, I chose Black Butterflies, a biopic film about a poet whose name I recognized, Ingrid Jonker. I had no idea the film would be so relevant after Nelson Mandela's death or that it would impact me more than any film had in a long time. I was unaware, at first, that Jonker had written the poem Mandela read in his inaugural address to South Africa's first democratic parliament. When I realized I had chosen a movie, just two days after Mandela died, without recognizing it would be set in South Africa during the apartheid and would feature Mandela's voice, I thought: synchronicity, how beautiful and strange. And yes, I felt like an ignorant and forgetful American as well.
I was riveted throughout the film. Dutch director Paula van der Oest portrays both the poet's power and her intense fragility. The film pays unforgettable homage to the "Sylvia Plath of South Africa," giving us a raw take on Jonker's mental instability and substance abuse. We are also provided a moving rendition of the poet's love affair with South African novelist Jack Cope. From beginning to end, the film leads us with force and elegance through Jonker's struggles as a rejected daughter and sister, a single mother, and an impoverished outcast. In her poetry and in her association with the anti-apartheid literary community, Jonker rebels against two oppressors, the apartheid government as well as her father, Abraham Jonker, the parliament's Minister of Censorship.
When I heard Nelson Mandela's voice reading Jonker's famous anti-apartheid poem at the end of the film—the ocean where the poet had drowned herself sparkling on the screen—I wept for the child in the poem, I wept for Ingrid Jonker, and I wept for Nelson Mandela.
Here is the movie trailer, and here is the poem Mandela read in his speech on May 24, 1994:
The Child
(The child that died at Nyanga)

The child is not dead
The child lifts his fist against his mother
Who shouts Africa! Shouts the breath
Of freedom and the veld
In the shanty-towns for the cordoned heart
The child lifts his fist against his father
In the march of the generations
Who are shouting Afrika! Shout the breath
Of righteousness and blood
In the streets of his embattled pride
The child is not dead
Not at Langa nor at Nyanga
Nor at Orlando nor at Sharpeville
Nor at the police station in Philippi
Where he lies with a bullet through his head
The child is the shadow of the soldiers
On guard with their rifles saracens and batons
The child is present at all assemblies and legislation
The child peers through the windows of houses and into the hearts of mothers
This child who just longed to play in the sun at Nyanga is everywhere
The child grown into a man treks on through all Africa
The child grown into a giant journeys over the whole world
Carrying no pass

—"Rebel SA Poet Writes of Sharpeville, Orlando, Langa …," Drum, May 1963. Translation from the original Afrikaans by Jack Cope
Tags:
From our Authors
,
Movie Review
,
Rebecca Snow