For the first Conundrum Press Weekend Read of 2014 (and a snowy Saturday morning), we have for you David J. Rothman's essay on ski legend Lou Dawson, first published in Rocky Mountain Sports, 1997. Lou Dawson has done a great deal for backcountry skiing, and it is our pleasure to pay him homage here. For more essays on skiers, mountains, and all things adventure, check out Rothman's newest book, Living the Life: Tales from America's Mountains & Ski Towns.
Lou Dawson and the Colorado High Country
by David J. Rothman
Each week in this blog I've been reprinting essays about notable members of the ski community, that for one reason or another didn't wind up in Living the Life. This week it's the turn of Lou Dawson, a member of the Colorado Ski Hall of Fame and surely one of the greatest living ski mountaineers (perhaps the greatest…) in America.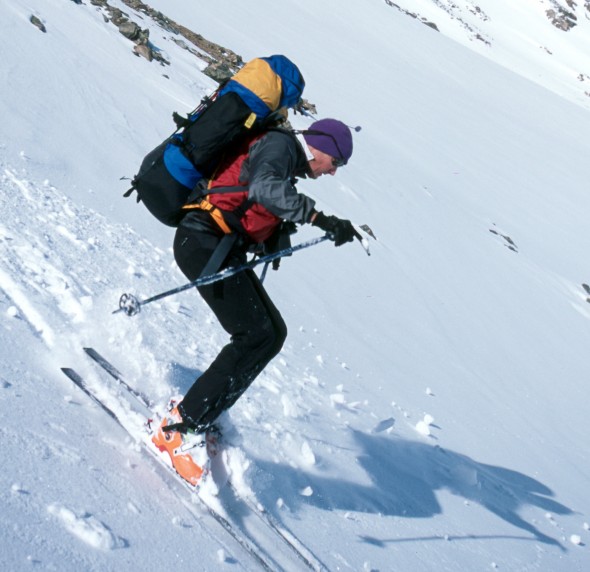 I met Lou in the early 1990s through my involvement with Craig Dostie's innovative magazine Couloir (the first American magazine devoted to backcountry skiing and snowboarding), and I'm proud to count both men as friends. I'm also honored both wrote blurbs for Living the Life. Though we haven't been on snow together for a number of years, I had several memorable tours with Lou (including one that does appear in the book, "Carving the Big One," about skiing Colorado's highest peak, Mt. Elbert), and we stay in touch. He's not only a great mountaineer, but a gifted writer whose guidebooks to Colorado's high peaks will be the standard for decades, and whose compilation of great American ski lines Wild Snow, is already a classic. He also runs the preeminent backcountry ski blog. Among literally thousands of superb threads on gear, technique, history, travel and more, his analysis of last spring's deadly Sheep Creek Avalanche, in which five backcountry travelers died near Loveland Pass in Colorado, is a textbook-quality forensic investigation of what went wrong. Every young backcountry skier (by which I mean under the age of 35…) should be required to read it at least five times.
Lou has utterly devoted his life to the mountains and to backcountry skiing, and he is one of the people who has transformed the sport in this country. It is a pleasure to reprint my essay about him here, which first appeared in Rocky Mt. Sports in December 1997. The essay is followed by the letter I wrote nominating Lou to the Colorado Ski Hall of Fame in 2004. I hope that this introduction and the two pieces that follow give some sense of his extraordinary accomplishments. Hey, Lou – can we make some turns this year?
***
When Louis W. Dawson II climbed and skied 14,165-foot Kit Carson Peak on May 9, 1991, he accomplished a great feat in the history of American ski mountaineering, becoming the first and still only person to ski from the summit of all 54 Colorado summits above 14,000 feet. This twelve-and-a-half year quest witnessed both successes and setbacks, including life-threatening injuries from avalanches, and first or second descents of extremely technical routes on mountains such as Pyramid Peak, Capitol Peak, Crestone Needle, and The Maroon Bells.
While Dawson, now 45, has climbed rock, ice, and snow throughout North America, for the last two decades he has devoted himself to the Colorado high country. He has climbed and skied not only the "fourteeners," but hundreds of other peaks across the state, some of them dozens of times, making him one of the great living experts on ski mountaineering in the entire region. His achievement joins the long history of high alpine ski mountaineering in Colorado, from the 1930s, when Andre Roche and Otto Schniebs explored the area above Aspen, through the years during WW II when the 10th Mountain Division trained at Camp Hale, and the 1970s, when Crested Butte, Breckenridge, and a few other ski towns saw the renaissance of telemark skiing, and Chris Landry, Dawson, and others began to tackle technical descents on the state's more challenging peaks.
Dawson has put his experience to work: his guidebooks are quickly becoming standard issue for the Colorado high country in winter. At his home in Carbondale, where he lives with his wife Lisa and seven-year-old son Louis Jr., he has written Colorado 10th Mountain Trails and Colorado High Routes. He is a Contributing Editor at Couloir, a magazine devoted entirely to backcountry skiing and snowboarding, and he has written a Guide to Colorado's Fourteeners, in two volumes from Blue Clover Press. The second volume, which came out last year, won the coveted Mountain Exposition Award at the annual Banff Mountain Book Festival, perhaps the premier award of its kind.
The fourteener ski guides describe multiple hiking, climbing, and ski routes on all 54 mountains. Dawson's approach is thorough and well-organized, and the writing is precise. In addition to careful verbal descriptions, he provides photos and topographic maps with all routes carefully sketched in, and useful indexes. In addition, Dawson gives sound advice about approaches and potential hazards for each route, along with a substantial introduction on mountain safety that all novice climbers and ski mountaineers should consult before heading for tree line and above.
This year (1997), Dawson published Wild Snow: A Historical Guide to North American Ski Mountaineering (American Alpine Club Press). The book includes both a detailed history of the sport, and careful descriptions of major routes across the continent, from the Rockies, to the Sierras, to New Hampshire's White Mountains, to the major Canadian ranges and Alaska. Dawson is on the road promoting the book this fall, with a multimedia show which he will be presenting in Colorado in January. He is not only a great mountaineer, but also an excellent photographer, historian, and raconteur, and reports that the shows are drawing good audiences, especially on college campuses.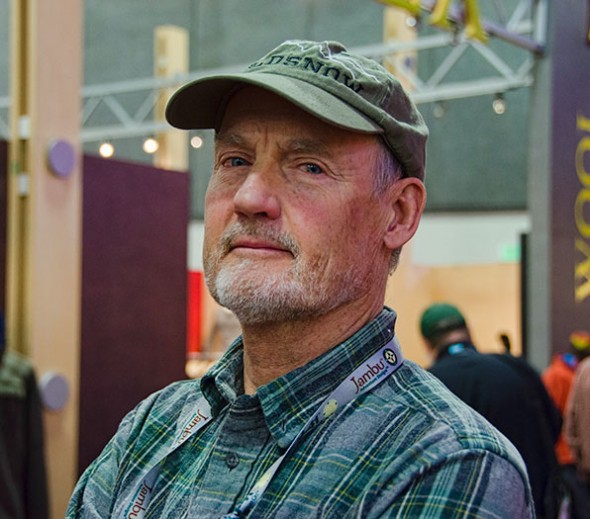 As Dawson eagerly goes on to point out, the size and youth of the audiences are yet another sign that ski and snowboard mountaineering are coming of age in America. In fact, they're growing at about a 10% annual rate, with some nights at popular backcountry shelters now selling out many months in advance, and better gear of all kinds available with each new season. This is partly because of Dawson's hard work, both as a participant at the frontiers of the sport and as one of its foremost chroniclers, in a career which continues to impress.
***
The following is a copy of Rothman's March 11, 2004 letter recommending Lou Dawson for the Colorado Ski Hall of Fame (to which he was elected).
To whom it may concern:
I am writing this letter to second the nomination of Lou Dawson to the Colorado Ski Hall of Fame.  It is an honor to write this letter.  It is also a pleasure, as the only challenge I face in composing it is to find the appropriate language of praise.
Over the last several decades, Lou has made one of the greatest contributions to the sport of skiing not only in the state of Colorado, but also throughout America.  Great competitors in the traditional disciplines may change the sport, but in general only excel at that which others also do well.  Lou has gone far beyond that.  His well-known feat in climbing and then skiing from the summit of all the 14ers in Colorado remains unduplicated.  It is important to remember that Lou's achievement was not only one of persistence, but also of tremendous skill.  While many of the 14ers are technically not difficult, at least a third of them present significant technical challenges, and some, like Capitol Peak, Pyramid Peak, and others, are as daunting as any ski descents yet accomplished anywhere on the globe.  Indeed, in completing his goal, Lou notched a number of audacious first descents which have yet to be repeated.  Overall, he established a benchmark – perhaps the benchmark – for accomplishment in ski mountaineering in this state.
Lou's subsequent athletic projects, such as his documentation and retracing of the 10th Mountain Division "Trooper Traverse" from Leadville to Aspen, are not only impressive backcountry accomplishments but also enlighten ski history by keeping it very much alive, enriching the sport for all.
If that were all Lou had done, I would hope it would be sufficient to earn him membership in the Colorado Ski Hall of Fame.  What impresses me just as much, however, and what amplifies his achievement, is what he has done with his athletic accomplishments as a writer and a speaker.  I think it is fair to say that there are few if any athletes of Lou's caliber – in any sport – who have transformed themselves into such strong writers.  His increasing resume of writings dealing with the technical aspect of Colorado ski mountaineering and with American ski history is tremendously impressive.  His guidebooks are well researched, well written, well organized, and almost obsessively thorough.  And consider – there is literally no one else alive who could even pretend to revise his 2-volume guide to skiing the 14ers, which could well remain the standard for many decades.  His historical material is lively and thoughtful, always accurate, and his sense of how to build a narrative is unerring.  He richly deserves the awards he has already won for these books.  In the world of journalism, as a Contributing Editor at Couloir he has also had a decisive and positive impact on that magazine (where I have also served as a Contributing Editor, so I have seen this first-hand) and on a completely new generation of backcountry riders.  His slide shows and talks are some of the best in the business.
In sum, Lou is not only a gifted athlete.  He is also a journalist, a historian, a guide, and one of the best ambassadors for our sport that Colorado could ever hope for.  At a time when a growing public again seems to be rediscovering the sport's founding spirit of adventure, Lou stands as one of the most accomplished and articulate exemplars of that tradition, and it is not hard to trace his influence on younger riders.
I have known Lou for almost a decade now, and I have skied a number of peaks with him.  When I moved to Colorado full-time back in the 1990s I thought I was a competent ski mountaineer, but I quickly learned how much I had to learn when venturing out with Lou.  On one notable spring morning several years ago, we descended Box Creek Canyon from the summit of Mt. Elbert, and I remember it as one of the biggest and most exciting days of backcountry skiing in my life (for Lou I think it was just a good stroll).  Lou is a demanding and exacting partner, but always generous with his knowledge.  I can think of no one I would rather have on the other end of a line.  Anyone who knows him also knows that, like most alpha mountaineers, he has strong opinions and loyalties.  So much the better – makes for great conversations on the climb (if you can keep up).  Colorado is lucky to have him.
Sincerely,
David J. Rothman
Tags:
David Rothman
,
Lou Dawson
,
Weekend Reads