Here is a beautiful interview with Max Mancini, a talented telemark skier who lost his girlfriend-and their unborn baby-in a car accident. His story of recovery and success-and what he has done with that success-is truly remarkable. Thanks, Dave, for sharing this essay with us.
Max Mancini, Comeback Kid
by David J. Rothman
This piece, the last in my series of five portraits of skiers that did not appear in Living the Life, is from 2008 and is about a true hero of the telemark world, born-and-bred Crested Butte local Max Mancini. Max is an astonishing skier (watch this video and you'll get the idea), but that's not the deep reason he's a soul skier and someone who exemplifies what it means to lead the ski life to the core. He's a soul-skiing hero because after the devastating personal tragedy described in the article, he turned his prodigious athletic gifts to helping others by starting an organization he named Life Turns. The organization's posted mission sums it all up well:
Life Turns inspires children living with medical challenges to transform their lives by immersing them in positive experiences in the outdoors. Through free week long camps, children are giving the opportunity to build friendships and participate in outdoor activities in a safe, playful and nurturing environment.
You can learn more here.
My interview with Max, conducted when he was just starting Life Turns, was one of the most powerful and inspiring I've ever conducted. If you have a few dollars burning a hole in your pocket, you could find no more worthy cause. Thanks, Max, for all you do.
***
Colorado State Highway 285 is a deceptive road. It winds west from Denver up through the foothills until it crosses over the continental divide at Kenosha Pass and descends to the high, dry, immensity of South Park. Once it clears the mountains, the road seems so straight and open that it's hard to imagine having an accident. That may why there are so many.
On September 30, 2007, legendary telemark skier Max Mancini and his girlfriend, Molly Jackson, who was carrying their unborn child, were involved in one of those accidents while heading up to their home in Crested Butte. According to the Colorado State Patrol report, widely available on the web, the accident occurred about one mile north of Como, a particularly lonely and dangerous piece of road. After the report describes the geometry of the accident, a dry narrative of metal flying through the air and eventually coming to rest, appears one simple, heartbreaking sentence: "The passenger in the BMW died at the scene." That passenger was Molly Jackson.
Mancini was airlifted to Denver. Along with a number of broken ribs and other injuries, the right side of his skull was shattered and he underwent brain surgery in which doctors removed two blood clots, reconnected the larger remaining fragments of his cranium, and inserted a permanent titanium plate.
Because there was air trapped in his skull, Mancini couldn't return to his high alpine home in Crested Butte, Colorado for several months. Amazingly, by early winter he was back living in the mountains. His only remaining physical deficits were some short-term memory loss and a few minor speech issues, neither of which was apparent during several phone interviews as recently as this fall.
Mancini's move back to Crested Butte coincided with a record-breaking winter of snowfall and three months after the surgery, he was able to ski powder and easy groomers. After the crucial six-month date passed and he had a clean bill of health, doctors said he could step it up (though he adds, with a laugh "I did buy a new helmet."). His doctors had originally told him he was unlikely to ski again, but against all odds he put in more than 120 days on snow last year. Later in the winter he even returned to filming with Two Plank Productions, and then traveled to Valdez with Tough Guy Productions to film a segment for Harmless. A major part of his recovery has been getting back on skis and doing what he loves. "Along with my family and friends, skiing was the only normal part of my life that I still had," Mancini notes. As a result he discovered a renewed love for the sport and a way to heal.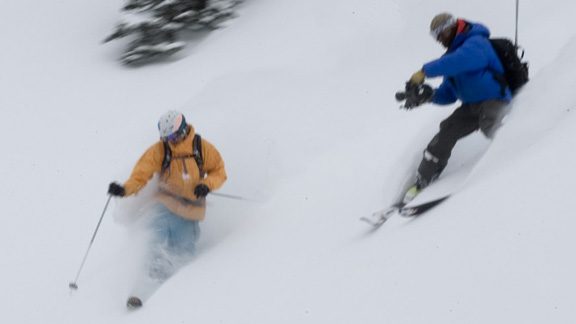 Over the last decade Mancini became one of the most influential telemark skiers in the industry. He grew up skiing in the mountains around Crested Butte and began competing in telemark events while attending the Colorado Rocky Mountain School in Carbondale, Colorado. He built his name as one of the first telemark skiers to challenge the status quo of the traditional Nordic style. He was throwing spins, sliding rails in terrain parks and sending huge lines in the mountains well before others. To watch him ski is to be inspired, which is why he has graced the cover of numerous magazines and has been featured in multiple ski movies, including two Warren Miller films, four films from Tough Guy Productions, and four from Unparalleled Productions. A few years ago he also started his own company, Falling Forward Films, with other pro skiers.
It's fair to say Mancini is not only universally respected, but also even beloved in the business. When the accident occurred, the outpouring of support was spontaneous and, well, unparalleled. Forums like TelemarkTips.com lit up with messages of shock and condolence to Mancini, his family and Jackson's family. Warren Miller even threw a benefit for Mancini and his family.
It is an inspiring tale of an athletic comeback. But Mancini's accident was not comparable to, for example, Herman Meier's motorcycle crash. Mancini lost far more and the emotional scars will be with him forever. According to Max's mother Marilyn, he looks good but it's going to take a very long time to recover. "Basically, he lost everything," she says.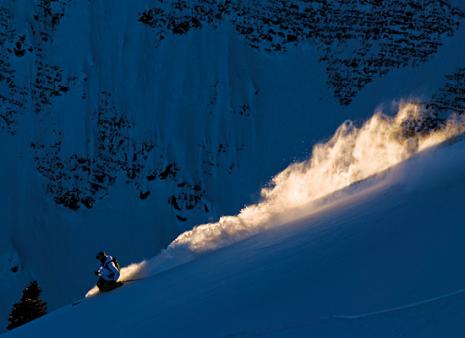 Mancini agrees and is disarmingly honest about what he's been through and how difficult it has been. He went into therapy to deal with the loss of Molly and their unborn child. Beyond returning to the sport and regaining his own health, he has taken the situation fate handed him and responded in an unusual way for someone who lost so much, for he has decided that one of the best ways for him to cope is to help others. "I've been incredibly lucky and had the opportunity to ski all over the world," he says. "And skiing has helped me in my life. I want to adapt that into a way to help other people."
When Mancini says he wants to give back he truly means it. Currently he's working on what could be the first pro-model Telemark ski with Rossignol. He's spent the last several months working on the ski, which is dubbed "The System." His old friend and artist, Dustin Handley, is helping him design the graphics while he works with the Rossignol team to design the ski. "It's a big mountain powder ski, with an early-rise tip and tail, and reverse sidecut except for underfoot, where it runs 115 centimeters," Mancini says. "It has the same profile as the Rossignol S7, and pretty much eliminates tip dive, which is great for tele skiers." The ski, however, is only half of the project: Mancini plans to donate his royalties to the Children's Hospital in Denver.
Mancini is also working on developing a non-profit corporation to run a camp called "Life Turns." The concept is similar to a camp called "First Descents" founded by Brad Ludden, a pro kayaker and old friend of Mancini's who wanted to do something for people living with cancer. "Life Turns" will be based in Crested Butte and will serve children who are terminally ill. Through Mancini's program, children and their families will get an opportunity to be together and learn something about the alpine world with an emphasis on skiing. Mancini is working with Crested Butte lawyer and Gunnison County Commissioner Jim Starr to earn "Life Turns" official non-profit status. He has nothing but praise for those helping him, including Ken Stone, the General Manager at Crested Butte Mountain Resort, and Todd Walton, the Communications Director, who are helping with lodging and lift ticket arrangements.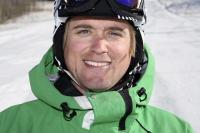 Life Turns isn't the only non-profit for which Mancini is using his status as a star athlete. He also works with "Slopes for Hope," a benefit program run by the Children's Hospital Foundation in Denver. Last March, participants took the ski train from Denver to Winter Park to ski with him for the day, before returning to Denver for a silent auction and fund raising dinner. The benefit raised money to support research and treatment for a debilitating and fatal skin disease, epidermolysis bullosa, which destroys elasticity in the skin. "Warren Miller had done such a huge benefit for me after the accident, and raised a ton of money to help with my hospital bills," Max says, "and that's what inspired me to give back."
One gets the sense that Mancini is a bit surprised to find himself the spark plug for so much good in the world. But his logic and commitment to his new projects are clear. When asked about the emphasis on children's programs in all of these ventures, Mancini says, "With all my losses, I want to help others, as that will in turn help me." One gets the distinct feel that by serving other children and their families; Mancini is also serving the family he might have had.
As for his own skiing, Mancini says he is now almost as strong as he was before the accident. Last summer, he headed to Chile and Argentina for training with other members of his new pro telemark team, "The World Is Our Playground." The members include some of the strongest young telemark skiers around: Colin and Seaton MacMillan, Phil Spinner, and Jennifer Schumacher. Mancini says the team started almost as a kind of joke. He passed on his used equipment, and they would then announce him as their coach and sponsor at events. Now, with all sorts of impressive results under their own belts (Spinner and the MacMillans have all cracked the top 10 at the US Tele Extremes in Crested Butte and have even earned podiums), the group has coalesced into a more professional outfit. Their goal is to self-produce media, and eventually to develop an adventure travel show for television. South America was their first trip together, and they're already picking up sponsorships from the likes of Pentax and Columbia.
The trip itself was a mix. The team battled rugged weather (including 112 mph winds in Las Lenas), and were robbed no less than three times. But in Argentina they got the chance to shoot video and photos with new cameras from Pentax. Mancini understands just how fortunate he is to be back in the game and he is savoring every minute of it—even the harder days. "We got some good photos," Mancini recalls, "and had great skiing in a few places, especially at Portillo."
A few minutes after our first interview ended, the phone rang. It was Mancini. He said he had something to add. He wanted to emphasize his deep gratitude to his parents, who moved down to Denver to be with him during his rehabilitation. And also to Molly's parents, the Jacksons, who are big supporters of his philanthropic projects and supported him throughout their own difficult times coming to terms with their daughter's death.
What comes through most powerfully is that, in responding to a difficult time, Max Mancini has discovered not only a renewed love for the sport, but for life itself. He says he feels tremendously lucky and grateful to have his friends, his family, and something as wonderful as telemark skiing. But when you think about it for a moment, the opposite is just as true: the telemark industry is lucky—very lucky—to have someone as dedicated and passionate about the sport as Mancini. Further, there are many people who have never even skied who are going to be very lucky that the telemark world has him. Telemark skiing for Max Mancini is now just a medium for something much larger. The sport could have no better ambassador.
***
This article first appeared in Telemark Skier 7.12 (December 2008): 50-55.
Tags:
David J. Rothman
,
Series