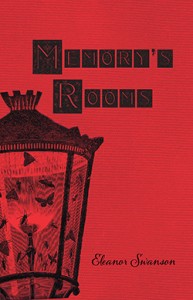 "The word that came to mind when I finished Memory's Rooms was, simply, "More."
More than a simple book of poetry, Eleanor Swanson has created a living scrapbook. As we turn the pages each memory snapshot bursts into life, from sepia tones to brilliant bouquets of words.
More. I want to know more about so many of the characters glimpsed, the experiences alluded to. And yet in another sense, each one feels complete, perfect in the moment in which it was caught in the flow of Swanson's pen. She doesn't just write about beauty; indeed the poem that has remained with me for days is beautiful and powerful, but not about beauty at all.
Thunder flashes bluish and then faintly orange
across the sky and rattles static through the radio.
The sound is like a faraway drum roll.
As I pull into the driveway, I think
about the wars going on worlds away—
where no one has spring in mind—
as plumes of smoke billow above ancient cities, blackening the skies.
More. I wish at the end of the book there were more poems. Just one more."
- Khadijah A. at Story Circle Book Reviews.
---
Eleanor Swanson's fiction and poetry have appeared or are forthcoming in a number of publications including The Missouri Review, Black Warrior Review, High Plains Literary Review, The Denver Quarterly, and The Southern Review. She has published three books of poetry and a collection of short stories. A native of Miami, Florida, Swanson now lives in Denver and teaches environmental literature and fiction and poetry workshops at Regis University, where she is a professor in the English Department. Visit her website.
Tags:
Eleanor Swanson
,
review
,
Story Circle Book Reviews