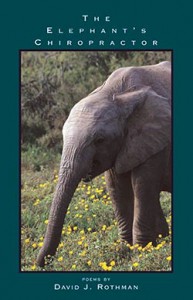 "What impresses one first about David J. Rothman is his immense imaginative and intellectual range, but the more one reads his striking and exuberant poetry the more deeply one feels its emotional force and quiet but genuine ferocity. He is an Apollonian touched by the divine madness of Dionysus. Diverse, demanding, and delightful, his poems abundantly reward the reader's attention." -Dana Gioia
The Infinite Work of Daybreak
The infinite work of daybreak crosses the world
A line dividing light from dark and darkness.
It makes each hour and every eye embark
Into particular replies, like trees.
Still, you imagine the ocean swell by swell
In darkness, out to where the line of dawn
Trails ragged curtains through doldrum and storm
Toward this smooth lip of sand. Here small black waves
Rise, curl, then break to spreading bars of foam
Which murmur up the beach into the visible.
The waves collapse into smooth apron shallows.
And when the infinite daybreak reaches them,
outfiguring blank depths and tidal keys,
The history of their stoic generation-
The earth and moon and sun and wind and time
All moving like a mindless algorithm-
They'll send blue streaming, blue announcing more.
Now points above the shimmering horizon
In growing dimmer signify the wing
Of love, however wild, however dark.
For there is always loving as today
Arrives, for love must cross imagined distances
To play in royal coconut palm crowns.
If you have ever stood and waited for
The infinite work of daybreak to arrive,
Be blessed in its innumerable hours,
And ounting them, go out into the day.
A Stone in My Rice
There was a stone that I did not see
In my rice, as I lifted it to my laughing mouth
In the heart of a sticky clump.
It must have escaped the sifting
And then steamed into its soft shell
Like a pearl's ugly heart,
Drawing the small grains around
To disguise its unhappiness. It rolled
Across my tongue like wasted time
Or a terrible, secret truth,
Until probability tossed it between my teeth,
Where it now has taken a revenge
Both silent and invisible to everyone else,
And incomprehensible
To me.
Praise for The Elephant's Chiropractor
"These wonderful poems are by a man who has wandered around inside of himself a long time, knocking on door after door, discovering in the end that the world is his lover."—James Tipton
Reviews
"You can almost hear Rothman's heart pounding triumphantly as he seizes upon and captures yet another of the small, ephemeral, but ultimately defining moments that can bring a soul to its knees or raise it to the heavens."—Lynda La Rocca,Colorado Central Magazine
"The qualities I love in David Rothman's poetry—vitality, variety and precision—are those I love in all the best poets. Whether he's writing about China, New York or the Western Slope of Colorado, his poems bring me close to his own wildly learned personality. The Elephant's Chiropractor is by turns funny, and deeply moving; its art affirms life." —David Mason
"This collection is a pleasure to read, especially aloud. The imagery is vivid and conveys a love of life and a deep appreciation of nature, art, music, food, and all other joys of the senses. These poems give special meaning to the ordinary and find awe in the familiar."—Cindy Jaye, Colorado Libraries
About the author
David J. Rothman was born in Northampton, Massachusetts in 1959. He earned an A.B. cum laude in History and Literature at Harvard University in 1982, an M.A. in English at the University of Utah in 1984, and a Ph.D. in English at New York University in 1992. He has taught courses in literature and writing at the University of Utah, Zhejiang University (People's Republic of China), New York University, Western State College of Colorado, and several secondary schools. His poems and essays have appeared widely. He lives in San Juan Capistrano, California, with his wife, Emily, and sons, Jacob and Noah.
Tags:
books
,
poetry
,
Rothman