Poetry by Joseph Hutchison, Colorado Poet Laureate
Thread of the Real
Who'd have thought: setting out
from a gap in the seam
between foothills and plains,
a pinch of cocoonish
dust like me
might take wing
northwest and seaward, away
from Nixon's nightbound America
and mine,
to settle
where vast sounds pour
their profundities into the folds
of b.c.?
Who'd have thought
I'd sleepwalk
into Canada's wooded raininess,
there to be startled awake
by a stogie-puffing
Irish Taoist?
Who was it
who'd led me to believe
there was no magic anymore?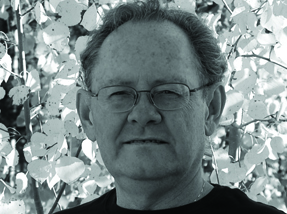 Joseph Hutchison is the author of eleven collections of poetry in addition to Thread of the Real, which include The Rain at Midnight, Bed of Coals (winner of the 1994 Colorado Poetry Award), House of Mirrors, The Undersides of Leaves, and the Colorado Governor's Award volume Shadow-Light. Born and raised in Denver, Colorado, Hutchison teaches graduate level writing courses at the University of Denver's University College. He lives with his wife Melody Madonna in Indian Hills, a small community in the foothills southwest of Denver.

Tags:
books
,
Hutchison
,
Poet Laureate
,
poetry