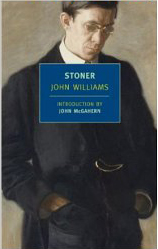 If you haven't yet read John Williams' Stoner, now's the perfect time. It was first published in 1965, and Williams was a creative writing professor at the University of Denver. It sold only 2,000 copies and went out of print. But there's been a slow, steady resurgence of this grim and gorgeous story of one man's grim and gorgeous life. Not convinced? Steve Almond will try to persuade you, here.
The Guardian publishes some of Kurt Vonnegut's drawings.
Did you ever wonder how a book is translated from its original language and then published? Here's the life cycle of a book in translation.
Even if never make any of them, the photos of these pretty and bright spring salads are sure to erase our memories of that annoying Mother's Day tree-slayer of a storm.