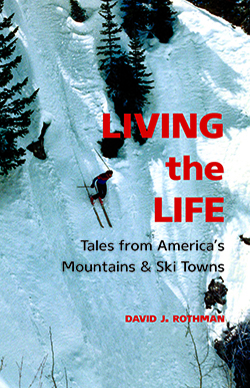 (attached cover is ARC version)
Release Date: November 5, 2013
From the Introduction:
Thinking about my own romance with the alpine world over the years has led me to discover one of the places where cause and effect come together. I may not be able to see this place of fusion clearly, or all at once, but it does exist and I can certainly sense it. This book is my attempt to give that place its name. I wrote it because I wanted to help give American skiing a written language as soulful as that of fishing, surfing, mountaineering, sailing and other environment sports, a quality it seemed to lack when I was growing up.
Skiing does not create a bounded playing field, but rather accepts and transforms the places where we pursue it. These essays are windows into how I've lived significant parts of my own life in those places and in that way, and I offer it up in the hopes that it will resonate with yours. For if skiing is not a sport, but a way of life, it touches far more than mountains and snow—it comes into contact with friendship, love, grief, joy, sorrow, history, politics, ambition, faith, tragedy, comedy, failure, triumph, audacity, remorse, delight, and regret, which is to say: everything that matters. It is those deep emotional realities that are at the heart of life. And you have no choice but to live that life. So live it.
About the Author:
David J. Rothman has been an East Coast NCAA Division I alpine ski racer, mountain sports journalist, and ski and snowboard academy headmaster in Colorado. He co-founded the Crested Butte Music Festival and is poet-in-residence for Colorado Public Radio. He is the Director of the Poetry Concentration in MFA in Creative Writing at Western State Colorado University and teaches creative writing and composition at the University of Colorado, Boulder, and at Lighthouse Writers Workshop of Denver. He lives in Boulder and Crested Butte.
 Advance Praise for Living the Life: 
"Through a series of poignant and powerful personal essays, David Rothman exposes a soul skier's raison d'etre. Anyone who rides, glides, or slides on snow will appreciate the mountain tales told in Living the Life."
—Lance Waring
"Sometimes, while skiing with my wife, I ask her, "Why is this so much fun?" I ask it in part because no ski writer has managed to answer that question. Radically different from any ski writing I've read are these essays by David Rothman, who gives us the big picture. His enthusiasm for skiing and skiers, for mountains and snow, is infectious. He takes us behind the scenes, into his head and ours, for a look at what skiing really is—a way of life."
—Wyn Cooper, author of Chaos is the New Calm
"Riders of the snow who still appreciate words will enjoy Living the Life. Rothman's tales, poetic in bursts, transcend the experience of skiing and connect it to the paths we stride, glide and stumble through in everyday life. It is Rothman's take on how skiing is life, how it is not just the path, but also the mountain the path climbs."
—Craig Dostie, Founding Publisher and Editor, Couloir
"David has tuned his words as well as his skis, and this collection offers the equivalent of playful jump turns, graceful arcs and high-speed cruisers. His metaphors made me laugh out loud and look around the coffee shop for someone to read them to. He can be affectionate and smart-ass, funny and philosophical. I felt like I knew these characters (okay, I DO know some of them) — kids and reprobates, mountaineers and academics. At times David's words conjured the wind-nip on my cheeks, snow billowing over my skis or a warm campfire surrounded by friends, and I thought, 'Wow, he nailed it.'"
—Sandy Fails, Editor, Crested Butte Magazine
"It's a select few who let their passion dictate their lifestyle. Doing so requires the sacrifice of a certain sense of normalcy, but the payback is tenfold in experiences that are extraordinary. Rothman is one of those few, and he articulates the highs, and lows, of that life choice perfectly in these pages. Living the Life is about one man's relationship with the mountains, but the stories are applicable to anyone who lets his passion lead the way."
—Derek Taylor, editor, mtnadvisor.com, editor, Powder, 2007-12.
"Poet, powderhound, musician, ex-racer, teacher, philosopher–all sides of Renaissance man David Rothman are on display in this collection, which ranges from satire to whimsy to the profoundly grateful and the essential questioning. Emerson? Check. Thoreau? Check. Petrarch? Only David Rothman would put Petrarch in a story about skiing's "earthly enjoyment." In a voice that sparkles with intelligence, he is capable, in the end, of deep sincerity. So spake "The Dude in the Parking Lot," who says of a late-season epiphany at Arapaho Basin: "All that really matters is being there." David Rothman is a writer who skis and a skier who writes, very well."
—Peter Shelton, author of Climb to Conquer and The Snow Skier's Bible
For publicity information, contact:
Caleb Seeling
PO Box 1279
Golden, CO 80402
caleb@conundrum-press.com
$14.99
5.5×8.5, paperback
224 pages
ISBN: 978-1-938633-32-4
Ebook ISBN: 978-1-938633-33-1
Tags:
books
,
creative non-fiction
,
essay
,
non-fiction
,
Rothman
,
skiing