Yesterday, we wrote a post praising Kathryn Winograd and Cara Lopez Lee, two of our creative non-fiction authors published in the last two years as part of the #ReadWomen2014 campaign.
Today, we celebrate two poets, Eleanor Swanson and Juliana Aragón Fatula, and a novelist with a just-published book called Glassmusic, Rebecca Snow.
---
Every door in this hand-crafted house of poetry opens into a room inhabited by possibility." -Andrea L. Watson, author of Collecting Life, Poets on Objects Known and Imagined
Swanson's Conundrum collection, Memory's Rooms, was published in 2013, and is comprised of poems that are distillations of moments and memories, using imagery and emotion as frame. In "Threnody," the poem's narrator starts, "On water, through glass, shining through mist/diffracting and breaking like a song interrupted…" and remembers a person long-lost, a person whom the narrator describes as, "the fish and I am the hook./Someday you will be mine again." There is movement over the course of the poem, an affirmation of connection.
Eleanor has written several books, both fiction and poetry, always with such care and attention of linking abstractions to concrete images. As a result, we readers come to full attention when we're in the midst of the lines, waiting to see where the poem will lead.
---
And then we have Crazy Chicana in Catholic City, Juliana Aragón Fatula's first collection of poetry. Conundrum republished it in 2012. She is a fifth-generation Coloradoan and she is a three-time winner of the Southern Colorado Women's Poetry Competition.
"Juliana Aragón Fatula writes histories so terrifying they feel as if they were written with a knife." -Sandra Cisneros 
Crazy Chicana's poems recount Aragón Fatula's past, her ancestors and her own life and the stories that resonate with the history of the land and the human body. Nothing is off limits in her work; she does not shy away from violence or sickness or death, all fundamental to the stories that made her into an artist.
---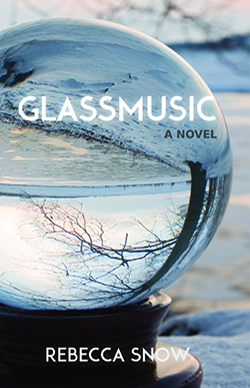 Published just last month, Rebecca Snow's gorgeous novel about early twentieth-century Norway and a young girl who struggles with her pious family's secrets and disharmony. Glassmusic explores the sometimes devastating realities of loyalty and jealousy, with philosophy, music, and love serving as her guides.
"The world through Ingrid's eyes is fragile and fraught with danger. Snow's debut novel is as beautiful as the frozen landscape she describes with such precision." -Tiffany Quay Tyson, author of the forthcoming Three Rivers
---
We are so gratified to have such strong women represent Conundrum Press through their work. It really is a reason to celebrate.