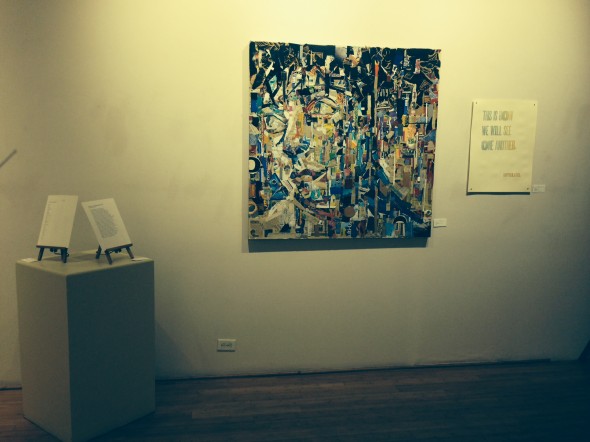 By Debbie Vance
Chris Ransick wrapped up a wonderful evening with a lively reading of a new poem this past Friday evening at the opening reception for Write, I See: A Creative Collaboration with Art Students League Denver. The show is a collaboration between Art Students League visual artists, Lighthouse writers, and MATTER letterpress-each display was a triptych: poem, painting, and letterpress excerpts from the poem. The exhibition will run at Carson Gallery on Santa Fe through November 22.
Included in the Conundrum Crew is Chris Ransick, who was paired with artist Jeff Wenzel; Seth Brady Tucker, who partnered with artist Michael Gadlin (their triptych shown above, right);  J Diego Frey, who partnered with artist Mark Friday; and Mike Henry, executive director of Lighthouse Writers Workshop, who partnered with executive director of Art Students League, artist Rachel Basye.
The night was a lively celebration of brilliant collaborations-cheers to Lighthouse and ASLD for a wonderfully successful evening.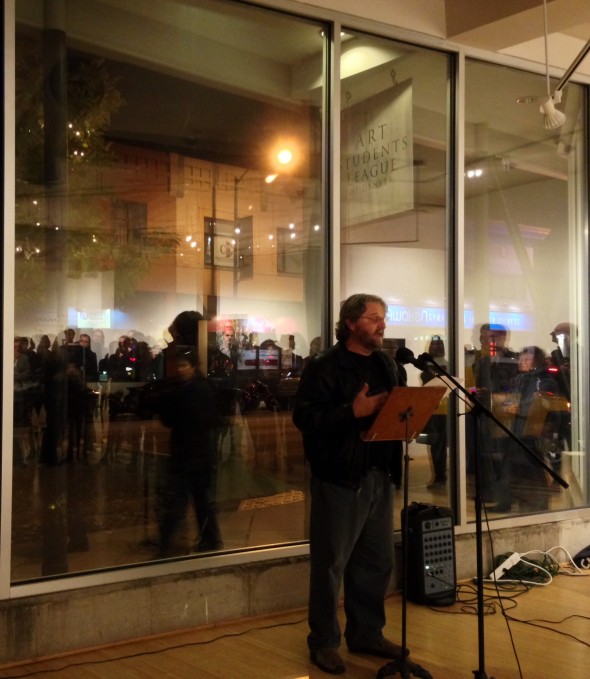 Oh. Best part? Ransick's introduction: "Everyone, shout out your favorite curse words. Good, now we can begin."
Classic.
Tags:
Art Students League Denver
,
Chris Ransick
,
curse words
,
J Diego Frey
,
lighthouse writers workshop
,
Mike Henry
,
poetry reading
,
Seth Brady Tucker